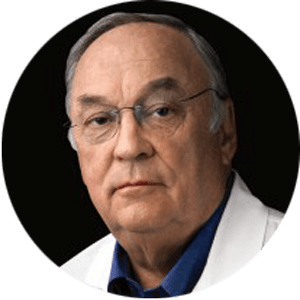 Dr. Thomas J. Fogarty
Dr. Thomas J. Fogarty is an American surgeon and inventor of the embolectomy catheter. Before his invention the success rate for removing an embolus, or blood clot, was forty to fifty percent. In 1965, Dr. Thomas Fogarty published an article describing "a new method for extraction of arterial emboli and thrombi."
Fogarty's inventions and the many others that resulted from his original embolectomy catheter heavily influenced the way surgery was performed. When asked about the time the impact his invention had on the field, he says, "I had no concept that would reach the magnitude that it has." As a result of the invention, Dr. Fogarty, still alive today, went on to win many prizes and patent over sixty inventions.
As for Fogarty's educational background, he was not a top-notch student, and his original career goal was to be a boxer. "I wasn't a very good kid. They sent me to a camp to keep me out of trouble. One of the routine activities was boxing. I became the Midwest Golden Glove champ."
To help his family get by in the late 1940s, fourteen-year old Fogarty started working at Good Samaritan Hospital during a time when hospitals were still exempt from child labor laws. He began the job cleaning medical equipment in the eighth grade, but he continued working during his high school summer vacations and was soon promoted to scrub technician, a person who handed medical instruments to surgeons.
During his last year of high school, Fogarty discovered that he wanted to be a doctor. At the age of 17, he quit his boxing career after he broke his nose in a match that ended in a draw. A family priest gave him a recommendation, and because of his awful grades, he was admitted to Cincinnati's Xavier University on probation. In order to get through college, Fogarty took on three jobs and received financial assistance from Dr. Jack Cranley, Fogarty's mentor and one of the most prominent vascular surgeons in the United States. Fogarty was Cranley's private scrub technician at Good Samaritan Hospital. "I had a mentor who encouraged me and helped to persuade me to go to college…He had 10 kids and I became the 11th. He always told me, 'You are smarter than you think.'"
Fogarty graduated from Xavier University with a bachelor's degree in biology in 1956 and went on to attend the Cincinnati College of Medicine where he graduated in 1960. From 1960 to 1961, he interned at the University of Oregon Medical School in Portland, Oregon, and he completed his surgical residency at the same school in 1965.
At the University of Oregon, while Fogarty was completing his residency in surgery, Dr. Al Starr, head of the cardiothoracic division, used Fogarty's balloon catheters. After he was informed that no company was willing to manufacture Fogarty's device, he asked one of his acquaintances, Lowell Edwards, an electrical engineer and president of his own company, to give the device consideration in producing it. In 1969, Fogarty patented his device, and Edwards Life Sciences from Irvine, California, was assigned the patent to begin manufacturing the Fogarty embolectomy catheter.
Because of the decreased risk associated with the device, it became the industry standard. It is still the most widely used catheter for blood-clot removal today and has been used in over three hundred thousand procedures every year all over the world.It is estimated to have saved the lives and limbs of approximately fifteen million patients.